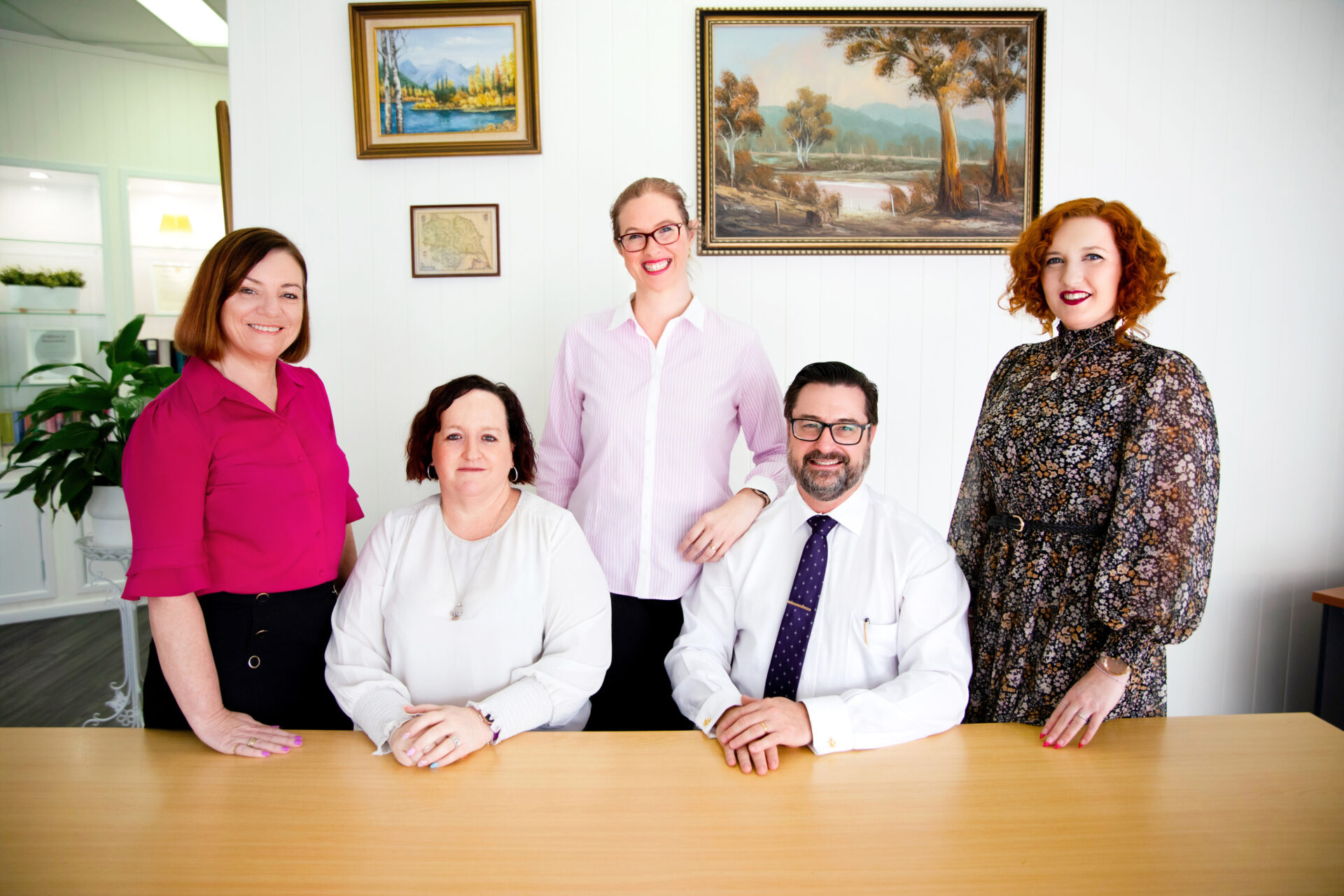 Our Conveyancing and Legal teams are headed by solicitors who are admitted to practice under the Legal Profession Act 2007 (QLD). They are all members of the Queensland Law Society and admitted to the High Court of Australia.

They are supported by conveyancing professionals who have decades of experience which means that your matter is in safe hands.

Our team will take you through any contract and are available to discuss your matter at any stage. We will keep you informed of the progress of your transactions and contact you immediately if there is any issue with your settlement.

Our solicitors can assist with a suite of legal services associated with your property transaction including:
Christopher Trace LL.B. (Hons) GDLP MBA MQLS – Principal
---
Kathleen Trace LL.B. (Hons) GDLP MQLS – Senior Associate
---
Michael Stockwell LL.B. GDLP JP (Qual) Bteach BMus (Hons) Dip MLang ATCL MQLS – Solicitor
Michael specialises in complex and convoluted cases requiring cross discipline lateral thinking. After unravelling intricate cases Michael briefs the firm's respective specialists and then works with them to provide our clients with concise and impeccably researched legal advice.

Michael has particular interest in Body Corporate, Environmental and Heritage Protection law. He also assists the University of Southern Queensland Law Faculty as a tutor and assignment marker.

Aside from his legal career, Michael is also an experienced and awarded violin and viola teacher. Having a background in education enables Michael to exercise great care and patience when explaining complex and often daunting legal concepts and cases to clients.

This critical ability puts minds at rest and empowers clients throughout the legal process.

Contact Michael
---
Nicole Dukleski JP QUAL – Conveyancing Manager
---
Zoe Gault – Paralegal
---
Lynn Varrie – Conveyancing Paralegal – Dalby, Chinchilla & Western Downs Region
Lynn was born and raised in Lake Manchester where her family operated a cattle raising property and has a lifelong appreciation of working and living in a rural environment.

She has worked for Bendigo Bank in loan document preparation which gives her an understanding of the processes associated with brokers and lending institutions.

Her legal experience encompasses Work Cover where she was responsible for their Magistrate Court proceedings throughout Queensland. This involved briefing barristers, booking witnesses and managing court timelines and proceedings. Her attention to detail was paramount to success in this role and brings that discipline to Heritage Conveyancing with respect to property law.

She has been a conveyancer since 2015, working for developers and buyers and mainly specializes in new development projects but does act for both buyers and sellers of established homes and units.

Additionally, Lynn has served in the Australian Defence Force as a reservist and strengthens the Heritage Conveyancing ties to our serving personnel.

If you require assistance throughout the Maranoa and Western Downs please contact Lynn on 0474 263 874 or email her.
---
Debbie Lawler – Senior Conveyancer – Bundaberg & Wide Bay
Debbie's commenced working in the legal industry 40 years ago as a Junior with the second largest Brisbane Law firm at the time. For the past 10 years Debbie has been working in Conveyancing including commercial, developer and retirement village work.

Debbie grew up in Brisbane and lived in the Moreton Bay region for at least 20 years prior to moving to the Wide Bay Region in 2021 for a tree change. She is a great asset to the Bundaberg region who works closely with local Real Estate Agents and our clients to deliver excellent outcomes.

She places great importance on communication with her clients and to find the best possible outcome for any issues that may arise during a conveyancing matter. Her wealth of experience and wide range of property law knowledge gives her the ability to negotiate and think quickly when working with clients, agents, brokers, other solicitors and banks.

Debbie has been responsible for the successful settlement of well over 5,000 matters in the last 9 years and also has vast experience in trusts and company conveyancing, estate, family law and related parties' transfers. She is a valued member of the Heritage Conveyancing Team.

If you are in Bundaberg or the Wide Bay Area then you can contact Debbie on 0433 195 912 or via email at debbie@heritageconveyancing.com.au
---
Alyson Mathison Cert IV Financial Services, ABA ICB – Office Manager
---